Car Recovery / Towing
Car recovery services anywhere in Dublin and surrounding areas. Quick response time!
Pay as you go recovery prices starting from as little as €50!
Breakdown cover from 32.99/Year also available.
Long distance transport charged from as little as €1/km.
Vehicles transported to location of your choice.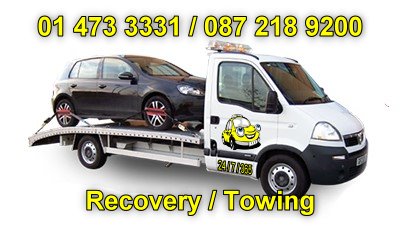 Better Car Recovery Service
Office Phone Number: 01 473 3331 or 01 473 2380
(Monday to Friday 9am to 5:30pm)
24hr mobile: 087 218 9200
No distance to short
Direct insurance billing (most cases)
Roadside assistance services
Fully insured
24 hour service (tel: 087 218 9200)
Competitive vehicle recovery prices
Certified recovery trucks
Damage free service guaranteed
Free storage space if needed
Nationwide transport
Collection from Garda impound
Thank you guys for towing me to the garage after my accident last week on Dame street. And thank you for the courtesy car. What a great service. I recommend you highly.
Hi Stuart,
I wanna thank you for the prompt response and great service.