Tyre Prices
Here you can view tyre prices and sizes available to purchase and fit at our garage.We are authorized dealers for Blacklion Tyres, a perfect tyre for the Irish weather, with a tread design specifically designed to disperse water (see video at the bottom of this page). Blacklion tyres have low noise level, excellent wet grip, high fuel efficiency rankings and a low price tag!
Passing by our premises? Call in and let us help you select the right tyres for your car, van, 4×4 or commercial vehicle, and have your new tyres fitted on the spot. No appointment necessary!
Tyre labeling & size guide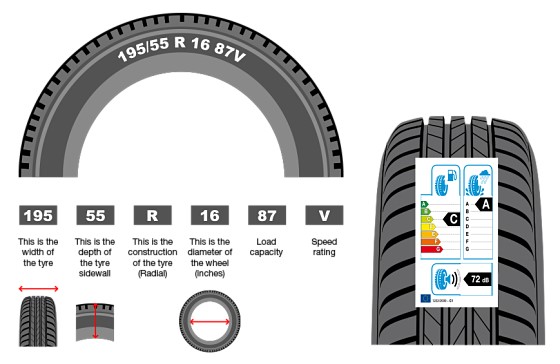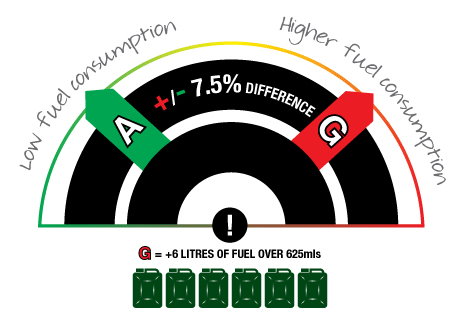 Tyre Fuel Efficiency
Check the fuel efficiency rating when you buy your tyres. As pictured in the image, an "A" rated tyre would save you 6 liters of fuel over 1005 Kilometers (625 Miles) when compared with a "G" rated tyre.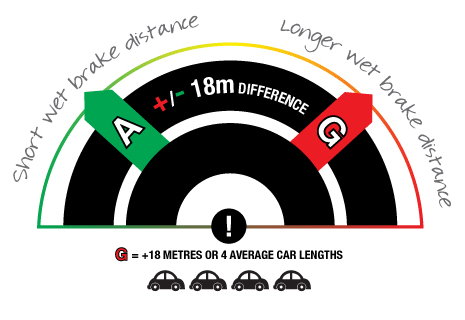 Tyre Grip Rating
Grip rating is a very important factor to consider when buying tyres. As pictured in the image below, the difference between an "A" rating an "G" rating can be 18 meters (683 Yards). Thats 4 average car lengths!!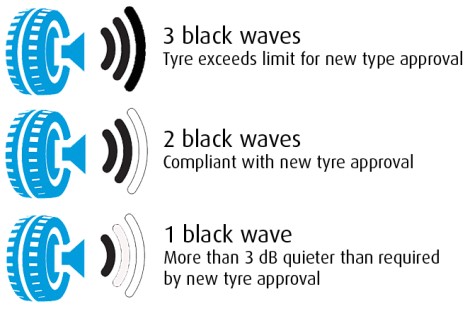 Tyre Noise Level
Check the label when you buying a tyre and get a tyre that has no more than 2 black waves, to be compliant with the new tyre approval.
Tyre Prices
| Tyre Size | Fuel Efficiency | Grip Rating | Noise Level | Average Price |
| --- | --- | --- | --- | --- |
| 165/65R13 | E | B | 71dB | €45.00 |
| 165/70R13 | E | B | 71dB | €45.00 |
| 175/70R13 | E | B | 71dB | €50.00 |
| 165/60R14 | E | B | 71dB | €52.00 |
| 165/70R14 | E | F | 71dB | €50.00 |
| 175/65R14 | E | B | 71dB | €52.00 |
| 175/70R14 | E | B | 71dB | €55.00 |
| 185/60R14 | E | B | 71dB | €54.00 |
| 185/65R14 | E | B | 71dB | €55.00 |
| 175/65R15 | E | B | 71dB | €60.00 |
| 185/55R15 | F | E | 71dB | €59.50 |
| 185/60R15 | E | B | 71dB | €57.50 |
| 185/65R15 | E | B | 71dB | €58.50 |
| 195R15C | C | B | 72dB | €100.00 |
| 195/50R15 | E | B | 71dB | €58.50 |
| 195/55R15 | E | C | 71dB | €62.50 |
| 195/60R15 | E | B | 71dB | €63.50 |
| 195/65R15 | E | B | 71dB | €65.00 |
| 195/65R15 | E | B | 71dB | €70.00 |
| 205/60R15 | E | B | 72dB | €67.75 |
| 205/65R15 | E | C | 75dB | €69.75 |
| 205/70R15 | E | B | 72dB | €87.00 |
| 215/65R15 | E | B | 72dB | €72.50 |
| 205/45R16 | E | C | 71dB | €70.00 |
| 205/50R16 | E | B | 71dB | €70.00 |
| 205/55R165 | E | B | 72dB | €70.00 |
| 205/55R16 | E | B | 72dB | €75.00 |
| 205/60R16 | E | B | 72dB | €72.50 |
| 215/55R16 | E | B | 71dB | €72.50 |
| 215/60R16 | E | B | 75dB | €80.00 |
| 215/65R16 | E | B | 75dB | €81.50 |
| 225/50R16 | E | B | 72dB | €81.50 |
| 225/55R16 | | B | 71dB | €82.50 |
| 225/60R16 | E | B | 72dB | €82.50 |
| 225/70R16 | E | E | 74dB | €110.00 |
| 225/75R16 | E | E | 75dB | €125.00 |
| 235/60R16 | E | B | 75dB | €90.00 |
| LT235/70R160 | F | C | 75dB | €125.00 |
| LT245/70R16 | E | C | 75dB | €130.00 |
| LT265/70R16 | E | C | 75dB | €140.00 |
| 205/40R17 | E | C | 71dB | €75.00 |
| 215/40R17 | E | C | 71dB | €80.00 |
| 215/45R17 | E | B | 75dB | €80.00 |
| 205/50R17 | E | B | 72dB | €82.50 |
| 215/50R17 | E | C | 71dB | €82.50 |
| 215/55R17 | E | B | 71dB | €85.00 |
| 215/60R17 | E | B | 72dB | €95.00 |
| 225/45R17 | E | B | 71dB | €85.00 |
| 225/50R17 | E | C | 71dB | €86.50 |
| 225/55R17 | E | C | 71dB | €87.00 |
| 225/60R17 | C | B | 72dB | €90.00 |
| 225/65R17 | | | | €120.00 |
| 235/45R17 | E | B | 75dB | €85.00 |
| 245/40R17 | E | B | 72dB | €90.00 |
| 235/60R17 | C | B | 75dB | €116.00 |
| 235/65R17 | E | C | 74dB | €120.00 |
| 205/40R18 | E | C | 71dB | €95.00 |
| 225/40R18 | E | C | 71dB | €89.00 |
| 235/40R18 | E | B | 72dB | €90.00 |
| 245/40R18 | E | B | 75dB | €95.00 |
| 245/45R18 | C | B | 72dB | €100.00 |
| 275/45R20 | C | C | 73dB | €160.00 |
Tyres Load Index
| Load Index | Max kg | Load Index | Max kg | Load Index | Max kg |
| --- | --- | --- | --- | --- | --- |
| 50 | 190 | 70 | 335 | 90 | 600 |
| 51 | 195 | 71 | 345 | 91 | 615 |
| 52 | 200 | 72 | 355 | 92 | 630 |
| 53 | 206 | 73 | 365 | 93 | 650 |
| 54 | 212 | 74 | 375 | 94 | 670 |
| 55 | 218 | 75 | 387 | 95 | 690 |
| 56 | 224 | 76 | 400 | 96 | 710 |
| 57 | 230 | 77 | 412 | 97 | 730 |
| 58 | 236 | 78 | 425 | 98 | 750 |
| 59 | 243 | 79 | 437 | 99 | 775 |
| 60 | 250 | 80 | 450 | 100 | 800 |
| 61 | 257 | 81 | 462 | 101 | 825 |
| 62 | 265 | 82 | 475 | 102 | 850 |
| 63 | 272 | 83 | 487 | 103 | 875 |
| 64 | 280 | 84 | 500 | 104 | 900 |
| 65 | 290 | 85 | 515 | 105 | 925 |
| 66 | 300 | 86 | 530 | 106 | 950 |
| 67 | 307 | 87 | 545 | 107 | 975 |
| 68 | 315 | 88 | 560 | 108 | 1000 |
| 69 | 325 | 89 | 580 | 109 | 1030 |
Tyres Speed Index
| Speed Index | Max km/h | Speed Index | Max km/h |
| --- | --- | --- | --- |
| A1 | 5 | J | 100 |
| A2 | 10 | K | 110 |
| A3 | 15 | L | 120 |
| A4 | 20 | M | 130 |
| A5 | 25 | N | 140 |
| A6 | 30 | P | 150 |
| A7 | 35 | Q | 160 |
| A8 | 40 | R | 170 |
| B | 50 | S | 180 |
| C | 60 | T | 190 |
| D | 65 | U | 200 |
| E | 70 | H | 210 |
| F | 80 | V | 240 |
| G | 90 | ZR | >240 |
Part Worn Tyres Hidden Dangers
Understanding Tyre Labeling