Why have thousands of taxi drivers chose us?
Our taxi door branding staff, are PE certified level 5
We invested in the most up to date 12 color high-end digital print machine
We use calendered digital vinyl for all taxi door stickers we supply
We apply techniques that minimize graphic shrinkage
You can notice our decals quality by the sharp crisp printed edges, and color depth
Our taxi door signs are extremely fade resistant
We have always offered better prices and deals
We have fitters in Cavan, Cork, Dublin South Side and North Side, Galway, Portlaoise, Louth, Sligo, and Waterford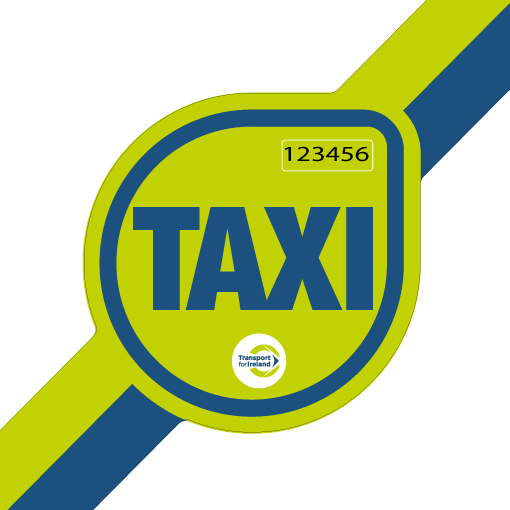 How does is work?
Book your vehicle at the location of your choice
We install taxi sign on your vehicle in aprox 30 minutes*
– Fitted as per NTA requirements
What does it comprise of?
Approved shape & color (see image above) semi-permanent decal
Vehicle's roofsign (licence) number imprinted
Transport for Ireland logo imprinted
Choice of the word "TAXI" or "Tacsaí" imprinted
*Note: Removal of old stickers will take additional time. While we take all necessary precautions, we can not accept responsibility if paint damage occurring due to removal of old stickers!
What's the price for taxi door stickers?
Additional charge aplies for old sticker removal:
two doors €30
one door €15
Taxi door signage & suitability test
None of our stickers ever caused a SPSV suitability test failure
We fitted more taxi stickers than any other supplier