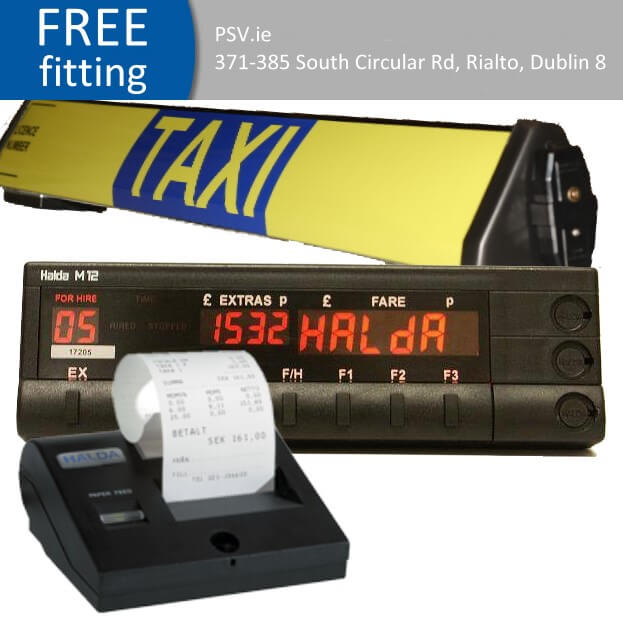 Halda Meter, Printer and Roofsign
€400.00 inc VAT
Refurbished taxi meter + printer + G&S Roofsign package deal.
Description
The Halda taxi meter has a four-mode display dimmer function allows the illumination of the screen to be manually adjusted to give maximum visibility, so the fare can be clearly seen even if the meter is in direct sunlight.
It can keep track of both daily and accumulated totals and even give a detailed printout of the last 250 jobs.
A pending tariff change can be pre-loaded into the M12 and a date set for the tariff to come into force automatically, saving you valuable time and money.
Specification:

Supply Voltage: +6.0v – +18.0v
Current Consumption: 0.3amps active (Excluding For Hire Lamps) 00.5amps Idle
Relay Outputs: 4 x Fully Progammble MOSFET Relays
(Total Max Current 2amps)
1 x For Hire Relay (Max Current 7.5amps)
Inputs: 4 x Fully Programmable Inputs for connecting Mobile phones or Pressure Mats Etc.
Pulse Inputs: 3 User Selectable Pulse Input Modes
1 x Open Collector input
1 x Sinus Input (ABS type sensor)
1 x Active Input
Protection: Reverse Polarity, Overcurrent & Overvoltage Protected
Communications: RS485 for Printer,Cardswipe & Data Transfer
Sealing & Approvals: The M12 Taximeter can be sealed in compliance to B.S.I/P.C.O & International Standards using either the plastic push-in or lead type seals
Operating Temperature: -25c to +55c
Storage Temperature: -40c to +85c
Dimensions: 1Din Size Mounting 280 x 51 x 16mm
Dimensions: w x l x h 122 x 55 x 112 mm
Printing technology: Thermal printer for 58 mm thermal paper, with fixed print head
Printing speed: Eight lines per second at 24 characters per line
Resolution: 384 dots per line
Fonts: 16, 24, 54 characters per line. Normal, Bold, Italic. ASCII including European characters, Greek, Latvian
Graphics: Yes, with special driver (bitmap graphics)
Paper loading: Automatic, and with manual feed button
Environmental requirements: According to the regulations of the Swedish National Road Administration (Vägverket), VVFS 1999:177, and Cenelec EN 50148:1995.
Temperature range: –25 °C to +55 °C degrees in operation –40 °C to +70 °C at standby
Magnetic card reader: Input for magnetic card reader for track 2
Taxi roofsign made in Ireland. Text on the roofsign also available in Gaelic. Other type of roofsigns available at extra cost.

Only logged in customers who have purchased this product may leave a review.